The Midwest TQ Racing League is saddened to announce the death, at the age of 63, of the former Voice of the MTQRL and Director of Marketing, Gary Lee.
Lee was a veteran motorsports announcer most widely recognized for his pairing with Larry Rice on ESPN's Thursday Night Thunder broadcasts in the late 1980's and early 1990's. Lee also worked for the Indianapolis Motor Speedway Radio Network, and was the former owner of Whiteland Raceway Park.
Lee joined the MTQRL in its inaugural season in January of 2009 and his connections in motorsports were instrumental in securing several marketing coups unheard of in three-quarter midget racing. One of which included having the Indianapolis Motor Speedway bring the famed Boyle Maserati, along with Donald Davidson, to the Shelby County Fairgrounds for a "Salute to Wilbur Shaw."
Gary Lee will always remain an important part of the history of the MTQRL, and will be greatly missed.
A Celebration of Life gathering will be held on Friday July 18th from 5:00 pm to 7:00 pm at the Forest Lawn Funeral Home in Greenwood, Ind. The family requests, in lieu of flowers, memorial contributions to the Indiana Memorial Racing Association (http://www.indianaracing.org).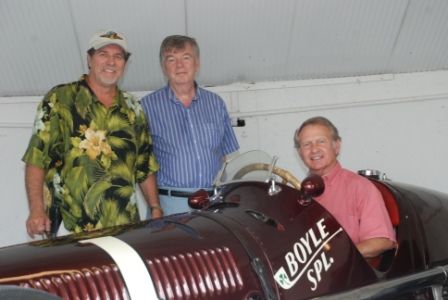 Gary Lee, Donald Davidson & Wilbur Shaw, Jr.